Give the Gift of Ogunquit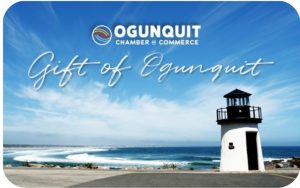 Support Local, Shop Local
The Ogunquit Chamber of Commerce is proud to offer the new Gift of Ogunquit E-Card, a community-based digital gift card that makes it fun and easy to keep local spending local. Purchase a Gift of Ogunquit E-Card here to use at any of the participating shops in the neighborhood. With this card, you can write a personal message and send it to family, friends and colleagues via email, text, or physical copy.
Recipients can choose to spend it at one of our many(and growing) participating merchants in the Ogunquit area—or mix it up and spend flexibly at multiple locations. All-digital and always available on your phone, the Gift of Ogunquit E-Card is great for birthdays, holidays, teacher appreciation, coach gifts, or just to show your appreciation to a friend. Now you can give back to the community while you celebrate the holidays and special occasions.
Participating in this program means supporting the heart of what makes our community unique. The purchase of a Gift of Ogunquit eGift Card creates a pool of cash that local businesses in Ogunquit can rely on.
Purchase a Gift of Ogunquit E-Card today!
The Gift of Ogunquit is proudly sponsored by the Marginal Way Preservation Fund
Go to www.marginalwayfund.org for more information!
What would Ogunquit be without the Marginal Way?