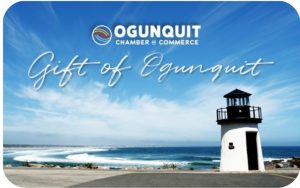 GIVE THE GIFT OF OGUNQUIT
Do you know someone who loves Ogunquit? The Gift of Ogunquit e-card is the perfect gift for all your Ogunquit-loving friends and family!
The Gift of Ogunquit e-card is currently accepted at more than three dozen businesses around town - restaurants, retail, and lodging. Please be sure the recipient is aware of who accepts them and check back often as we are registering additional businesses for the program every day!
Thank you for supporting the independent local businesses that make Ogunquit such a unique and special place to visit!
CLICK HERE to purchase your e-cards today.
CLICK HERE to see the current list of participants.
Thank you to the Marginal Way Preservation Fund for sponsoring this great program!