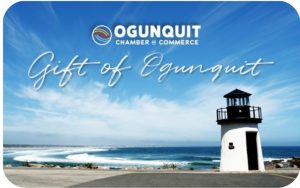 GIVE THE GIFT OF OGUNQUIT
Do you know someone who loves Ogunquit? The Gift of Ogunquit e-card is the perfect gift for all your Ogunquit-loving friends and family!
The Gift of Ogunquit e-card is currently accepted at more than two dozen businesses around town - restaurants, retail, and lodging. Check back often as we are registering additional businesses for the program every day!
Thank you for supporting the independent local businesses that make Ogunquit such a unique and special place to visit!
CLICK HERE to purchase your e-cards today.
Thank you to the Marginal Way Preservation Fund for sponsoring this great program!